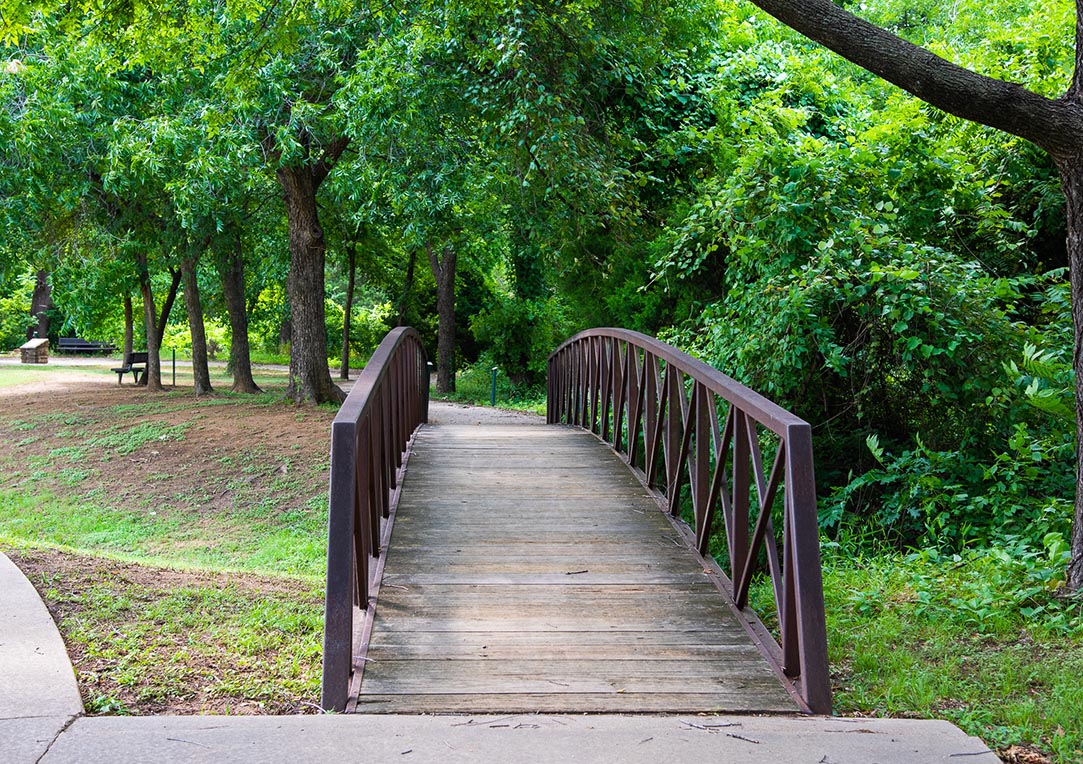 With a population of over 55,000, Euless, TX is a suburb of Dallas in Tarrant County. Its convenient location gives its residents easy access to plenty of parks, restaurants, and entertainment options in the city and surrounding areas. The city of Euless is a great place to explore with family and friends, from visiting one of its amazing parks, incredible live music events to some of the best food you'll find in the great state of Texas, you'll find it all here. With so many options to choose from in the area, we at Domain at Founders Parc put together the following list of some of the best things to do in Euless, TX.
Villages of Bear Creek Park
Location: 1951 Bear Creek Pkwy, Euless, TX 76039
If you're looking to spend a fun day out in the sun, be sure to check out Villages of Bear Creek Park and take a stroll on its beautiful 3-mile nature trail. You'll find plenty of other trails and an abundance of shade in the park, so if you're worried about the hot Texas summer heat, don't be. If you have a dog, it's a fantastic destination for you and your favorite canine friend, where you'll also find a fenced dog park so you can let them roam free to make new friends and have some fun. The park also connects to other parks in town like the Preserve at McCormick Park, so make a day of it and get out there and explore.
Location: 5100 TX-121 suite c, Colleyville, TX 76034
If you're looking for something a little different, Pic-OlOgy might be just the ticket. Here you'll find 10 different rooms featuring unique art displays that make use of modern technology, fusing traditional art forms to create a multi-sensory experience for visitors. With all of this creative energy comes purpose as well, and Pic-OlOgy's mission is to stimulate active learning through the artistic and creative process, educating communities and students alike.
Location: 1363 W Euless Blvd, Euless, TX 76040
A true Texas original, Fuzzy's Taco Shop found its roots in Fort Worth, TX in 2003, where it began to garner a cult-like following from the locals in the area. Soon after, Fuzzy's began their expansion across the state and other areas of the south. If you're looking for some delicious tacos, you found your place. They're most famous for their baja-style tacos and margaritas for a reason, so definitely be sure to try those out!
Bedford Farmers Market
Location: 2824 Brown Trail, Bedford, TX 76021
Just a short drive away, you'll find Bedford Farmers Market, an indoor market where you'll find a huge selection of fresh, locally sourced produce, meats, bread, plants, and much more. We definitely recommend trying out some of the amazing locally made bread you'll find there. Though they have an awesome assortment of spreads on offer, you'll likely find yourself just eating the bread itself with nothing on it. It's just that good. Along the walls, you'll also find a huge variety of different homemade salsas, honey, jellies, jams and more. So if you're a foodie like us, and want to support a fantastic locally-owned business run by an incredible group of people, Bedford Farmers Market is the place.

Location: 316 West Las Colinas Boulevard, Irving, TX 75039
Just down the road in Irving, TX you'll find the Toyota Music Factory in the DFW Metroplex, an expansive outdoor entertainment hub where you'll find plenty of great live music, restaurants, bars, and much more. Live Nation handles the booking for many of the best national and international touring artists from all over the world, so no matter what genre you're a fan of, you'll find something for everyone here. With all of the great music and events all year-round, there's plenty of reasons to visit Toyota Music Factory, but be sure to try out some of the amazing restaurants around like Nosh & Bottle, Blaze Brazillian Steakhouse, or the Thirsty Lion. Whatever flavor your craving, you'll find it at Toyota Music Factory.

Lake Grapevine
If you're looking for a bit of fun in the sun, you'd have a hard time finding a better place to visit than Lake Grapevine just up the road in northern Grapevine, TX. Here, you'll find a gorgeous 8,000-acre lake with so many options for things to do it'll make your head spin. Lake Grapevine is the perfect spot for some great hiking, fishing, camping, boating and so much more.
Though not one of the larger cities in the state of Texas, with its convenient location and easy access to so many options in the surrounding areas, you'll always find plenty of things to do in Euless, TX. We hope this list makes it a little bit easier to plan your next day out with friends or family. So go forth and explore our wonderful city and find your flavor, discover your next favorite band or take a stroll through one of our beautiful parks. You'll find it all here in Euless, Texas.